Star Trophies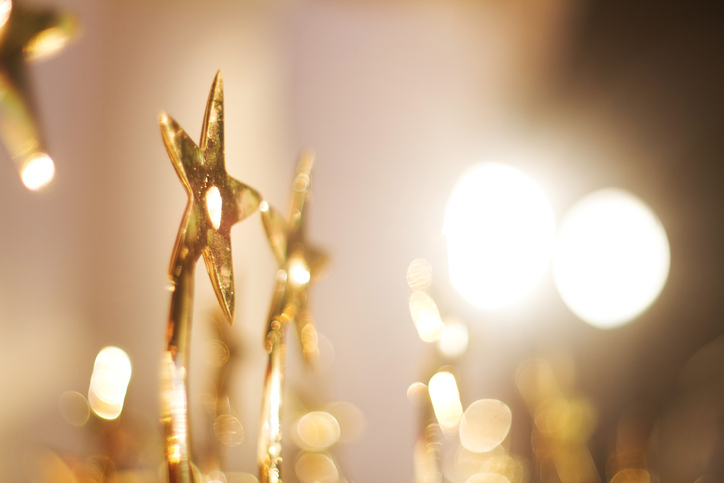 Annual Top 30 Influential Women of Houston Awards Presented by d-mars.com Business Journal
Annual Top 30 Influential Women of Houston Awards Presented by d-mars.com Business Journal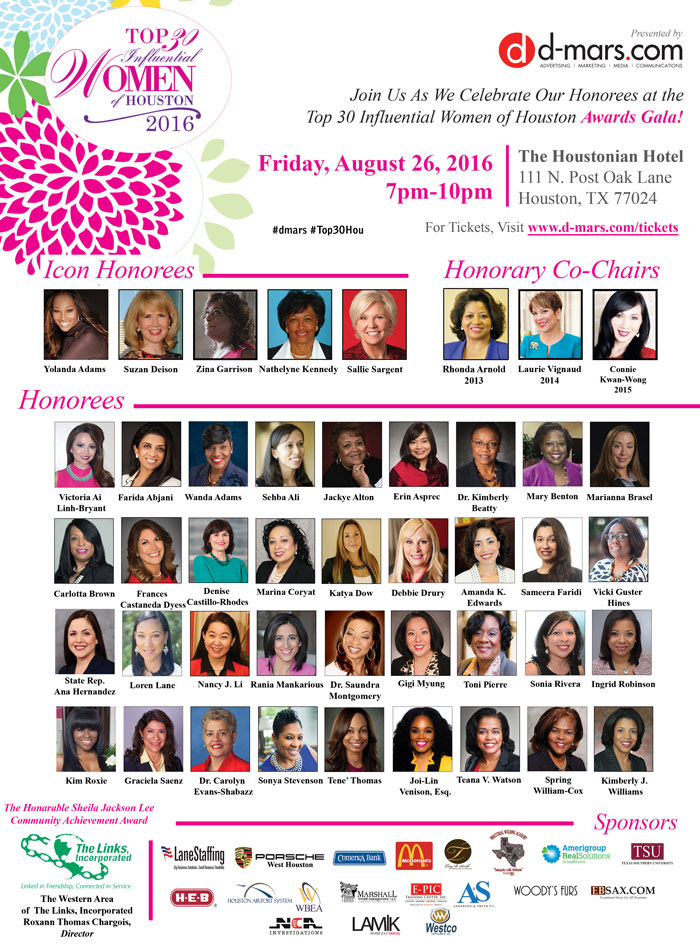 HOUSTON (August 1, 2016): d-mars.com Business Journal is pleased to announce the Top 30 Influential Women of Houston Awards Gala. Tenacity, discipline and diligence are just a few of the criteria for making the list. This years honorees have broken barriers in their respective fields and left an indelible mark on the face of Houston.
"At d-mars.com we feel it is our privilege to recognize and celebrate the success of influential women leaders. This is an excellent opportunity to offer them the accolades they deserve for their achievements in the various industries and communities they serve. d-mars.coms mission is to strengthen the community and these women are definitely an inspiration to the generation of youth who undoubtedly look up to them and aspire to become influential leaders as well, says Mr. D-Mars, President and CEO of d-mars.com.
Friends, family and colleagues will celebrate the accomplishments of these outstanding leaders during an awards dinner at The Houstonian Hotel, located at 111 North Post Oak Lane, on Friday, August 26, 2016 at 7:00 p.m.
Also being recognized for their extraordinary accomplishments are 5 ICON honorees that include Sallie Sargent, Yolanda Adams, Nathelyne Kennedy, Suzan Deison and Zina Garrison.
Sponsors of the Top 30 Influential Women of Houston Awards are Porsche of West Houston, H-E-B, LaneStaffing, Anderson & Smith, P.C., Industrial Welding Academy, Houston Airport System, Texas Southern University, Amerigroup, Comerica Bank, Womens Business Enterprise Alliance, LAMIK, Marshall Wealth Management, Dr. Heather Brown Orthodontics, E-PIC Training Center, Inc., Troy B. Smith Professional Services, Joie De Linens, Not Jus Donuts, Subcontractors USA, Accurate Security and EbSax.com.
For additional information on media access or interviews, please contact Kimberly Floyd (operations@d-mars.com) or Crystal Dorsey (events@d-mars.com) at (713)272-9511. For sponsorship information, please call Mr. D-Mars at (281)748.8111.
About d-mars.com:
d-mars.com is an advertising, marketing, media and communications company that has been in business more than 17 years, inspiring, informing and educating the diverse Houston community. d-mars.com provides an array of services that include design, printing, online and email marketing and public relations.
2016 Top 30 Influential Women of Houston Honorees:
Icon Honorees:
Yolanda Adams  Grammy Award-Winning Gospel Artist
Suzan Deison– CEO/President/Founder, Greater Houston Womens Chamber of Commerce
Zina Garrison CEO, Zina Garrison Foundation & Former 4th-Ranked Tennis Player in the World
Nathelyne Kennedy President, Nathelyne A. Kennedy & Associates
Sallie Sargent President & CEO, Houston Super Bowl Host Committee
Honorees:
Victoria Ai-Linh Bryant President, World Chamber of Commerce Texas & Founder, Ambassadors Caregivers
Farida Abjani Co-Founder/CEO, Shining Nightingale, Inc.
Wanda Adams Board of Education First Vice-President & District IX Trustee, Houston Independent School District (HISD)
Sehba Ali Chief Executive Officer and Superintendent, KIPP Houston Public Schools
Jackye Alton President, Almeda Travel
Erin Asprec CEO, Memorial Hermann Southeast
Dr. Kimberly Beatty Vice Chancellor of Instructional Services, Chief Academic Officer, Houston Community College
Mary Benton – Director of Communications and Strategic Projects, Harris County Precinct One
Marianna Brasel General Manager, Porsche of West Houston
Carlotta Outley Brown, M.Ed. Principal, Lora B. Peck Elementary School ÔÇô Houston Independent School District
Frances Castaneda-Dyess President, Houston East End Chamber of Commerce
Denise Castillo-Rhodes Executive Vice President & Chief Financial Officer, Texas Medical Center
Marina Coryat Senior Manager, Blue Cross and Blue Shield of Texas – Southeast Texas Region
Katya Dow Legal Program Director, Juvenile and Capital Advocacy Project & Adjunct Law Professor, University of Houston Law Center
Debbie Drury – President, MarketDoctors.com
Amanda K. Edwards Attorney & Houston City Council Member At-Large Position 4
Sameera Faridi Director & Designer, Poshak Fashion & Style
Vicki Guster-Hines McDonalds Vice President, Operations and Franchising – Houston Region
Ana Hernandez – State Representative, District 143
Loren Lane – Key Account Manager, EMD Serono
Nancy J. Li Chair of the Board, Easton Resource Development, Inc.
Rania Mankarious, MA, JD Executive Director, Crime Stoppers Houston
Dr. Saundra Montgomery Life Coach/Author/Leadership Consultant & First Lady, Abundant Life Cathedral Church
Gigi Myung President & CEO, GLM Energy, Inc.
Toni Pierre Business Change Manager-NAIP, Amerigroup Community Care
Sonia Rivera – National President, National Hispanic Professional Organization & Owner/Consultant, Genesis Consulting, Inc.
Ingrid Robinson President, Houston Minority Supplier Development Council
Kim Roxie – Creative Director, LAMIK Beauty
Graciela Saenz Attorney at Law, Saenz Burkhardt P.L.L.C.
Dr. Carolyn Evans-Shabazz – Board Secretary & District IV Trustee, Houston Community College
Sonya Stevenson Executive Director, The Fort Bend Church
Tene Thomas, CPA – Partner -Tax Practice, McConnell & Jones LLP
Joi Venison CEO/Co-Founder, Super Weave Xpress
Teana V. Watson Principal Attorney, T.V. Watson Law, PLLC
Spring Williams-Cox – Director of Operations Southeast Texas, UPS
Kimberly J. Williams, JD Deputy Chief Procurement Officer, Metropolitan Transit Authority of Harris County
Sheila Jackson Lee Community Achievement Award
The Western Area of The Links, Incorporated – Roxann Thomas Chargois, Director
2015 Top 30 Influential Women of Houston Honorees:
Icon Honorees:
Dr. Selina M. Ahmed Interim Chair, Department of Human Services and Consumer Sciences, Texas Southern University and Former Director, Mickey Leland Center Texas Southern University;
Dr. Judith Craven Past President, The United Way – Texas Gulf Coast;
Deavra Daughtry Chief Executive Officer, Texas Women's Empowerment Foundation;
State Representative Jessica Farrar – Texas House District 148;
Melanie Johnson, Ed.D. President & Chief Executive Officer, The Health Museum: John P. McGovern Museum of Health and Medical Science;
Susan A. McEldoon President & General Manager, KHOU-TV
Stephanie Nellons-Paige Senior Director, Metro Engagement and Relations, USA Funds | Philanthropy & National Engagement;
Page Parkes President, Page Parkes Corporation;
Wanda Thornton Mott, M.D. Board Certified Obstetrician & Gynecologist, Women's Specialists, TCH Pavilion for Women;
Honorees:
Devon Anderson District Attorney, Harris County District Attorneys Office;
Dell Braunsdorf, MD Medical Director, Behavioral Health, Amerigroup;
Camille Cash, MD Board Certified Plastic Surgeon, Camille G. Cash, M.D.;
Dr. Jennifer Yen Clark  Author & Assistant Professor of Psychiatry, University of Houston Medical School & Clinical Assistant Professor of Psychiatry, Baylor College of Medicine
April Day President, Womens Business Enterprise Alliance;
Dr. Marla Fielder, R.Ph. Director of Pharmacy, The Kroger Company Southwest Division;
Samille Frazier-Savoie Executive Director, BES Group;
Kim Gagne Supervising Producer, The Steve Harvey Show;
Marian Harper  Vice President, Foundation Development, Houston Astros;
Tammy Harris Founder & Trainer, Soul Grooves Fitness;
Vernita Harris Board Chair, The Greater Houston Black Chamber;
Winell Herron Group Vice President, Public Affairs, Diversity and Environmental Affairs, H-E-B;
Heather Holland Manager, Supplier Diversity & Local Participation, TransCanada;
Connie Kwan-Wong Founder, Connie Kwan-Wong Charitable Foundation; President, CKW Collection Inc.; Publisher, CKW LUXE Magazine;
Raquelle Lewis – Manager, Communications/Public Information, Texas Department of Transportation – Houston District;
Petria McKelvey Chief Executive Officer, Precision Medical Billing, Inc.;
Katie Mehnert Founder and Chief Executive Officer, Pink Petro;
Dr. Felecia M. Nave Provost & Senior Vice President for Academic Affairs, Prairie View A&M University;
Dr. Krista Olson Faculty Surgeon, Baylor Facial Plastic Surgery Center;
Erma Palmer Chief Executive Officer, Autos R Us;
Crystal Perkins Healthcare Manager, MD Anderson;
Letitia D. Quinones Criminal Defense Attorney, Quinones & Associates, PLLC and Chief Operating Officer, Food For Growth, Inc.;
Dr. Kamala Raghavan, CFF, CGMA, CFP President, Indo American Charity Foundation Houston and Associate Professor, Texas Southern University;
Liliana L. Rambo, CAPP – Director of Parking Services, Houston Airport System and Immediate Past Chair, International Parking Institute;
Nannette Ray, MBA – Chief Performance Officer, AnesthesiaOS;
Mary Redmond Owner/Operator, Redmond Management – McDonald's;
Theresa Roemer Lifestyle Expert, Philanthropist & Chief Executive Officer, Theresa Roemer, LLC;
Lina Sabouni, AIA NCARB Principal, AUTOARCH Architects, LLC;
Rhonda Skillern-Jones Board of Education President, District II Trustee, Houston Independent School District (HISD);
Joyce Tyler-Williams Senior Vice President, Community Development Houston/Galveston, Frost Bank;
Achievement Award:
ICON Womens Organization
PAST HONOREES
2014 Top 30 Influential Women of Houston Honorees:
Icon Honorees:
State Senator Sylvia Garcia, Texas Senate;
Karen E. Jackson Founder/CEO, Sisters Network, Inc.
Honorees:
Dr. Lacey Brooks Audiologist/Regional Manager Houston, Hearing Aid Express;
Latoya Bullard-Franklin Chief Executive Officer, The Bulsard Group;
Marian Cabanilla, MBA Vice President Marketing, UnitedHealthcare;
Shern-Min Chow Anchor, KHOU 11;
Sonia Clayton President & CEO, Virtual Intelligence Providers, LLC;
Pamela Ellis Chief Executive Officer, Smahrt Solutions;
Sonia Guimbellot Director/Secretary, World Chamber of Commerce, Texas;
Joanie Y. Hare, M.D. Physician, Houston Perinatal Associates;
Nikki Elizabeth Hart President & Owner, inMotion Marketing Group;
Miranda Horn Vice President, Industrial Welding Academy;
Judge Maria T. Jackson 339th District Court;
Justina Mann Chief Procurement Officer, Houston Airport Systems;
CleRenda McGrady TV Host, Thryv360;
Sharon Murphy Founding Partner, McConnell Jones Lanier and Murphy;
Kim Ogg Attorney, Ogg Law Firm;
Carrie Poole Chief Executive Officer, Professional Career Training Institute;
Ronda M. Prince Chief Operations Officer, Rap-A-Lot Records;
Maria Rios – President & CEO, Nation Waste, Inc;
Dr. Docia Rudley Executive Director for Academic Assessment, Texas Southern University Thurgood Marshall School of Law
Neeta Sane Board Chair/Trustee District VII, Houston Community College;
Thelma Scott Founder & CEO, Barbara Jordan Endeavors;
Dr. Alison Scott Cuillier Owner/Dentist, Lasting Impressions Dental Group
Sonya M. Sloan, M.D. Orthopedic Surgeon;
Laurie Vignaud Senior Vice President, Capital One Bank;
Barbara Walker-Green Financial Advisor, Advanced Wealth & Retirement, LLC;
Reva Witherspoon Vice President, Marketing, Amerigroup;
Mia K. Wright Co-Pastor, The Fountain of Praise;
Carlecia D. Wright Director, City of Houston Office of Business Opportunity;
Dr. Betty Young Educator
2013 Top Influential Women of Houston Honorees:
Icon Honorees:
Congresswoman Sheila Jackson Lee 18th Congressional District of Texas;
Donna Cole President & CEO, Cole Chemical & Distributing, Inc.
Dr. Patricia Brock Founder & Chairman Emeritus, Medical Bridges;
Honorees:
Nargis Ahmed Director, Muslim Democratic Caucus of Texas;
Maria Moncada Alaoui General Manager, Momentum BMW West;
State Rep Carol Alvarado Texas House District 145;
Rhonda C. Arnold Director of Community Relations, Houston Airport System;
Lisa Ashley Director, Corporate Communications, Port of Houston Authority;
Karen Becerra Chief Operations Officer/Principal, The Principle Partnering Group, LLC;
Dr. Heather Brown Owner & Orthodontist, Dr. Heather Brown Orthodontics;
Madeline Burillo, Ed.D. Associate Vice Chancellor, Houston Community College;
Helen Callier President, Bradlink, LLC;
Emelda Douglas SVP and Chief Development Officer, Neighborhood Centers, Inc.;
Wilma J. Evans President, North Houston Frontiers Club & Managing Partner, DeMand Staffing & Consulting, LLC.
Christina Robinson Grochett Chief Strategist for Innovation and Research, Lone Star College;
Dr. Irishea Hilliard COO & Pastor, New Light Christian Center Church
Carla Lane President & CEO, Lane Staffing;
Shara McClure Vice President Network Management, Blue Cross and Blue Shield of Texas
Catherine Mitchell COO, Amerigroup;
Marlene Petry, RN, MSN SVP, GP Industrial Contractors, Inc.;
Eva Pickens – Associate Vice President, University Advancement – Communications & Marketing, Texas Southern University;
Vanessa Reed Assistant Vice President, South Texas CRA Manager Corporate Public Affairs & Community Reinvestment, Comerica Bank;
Susan Repka Executive Director, Women Contractors Association;
Dr. Jonita Wallace Reynolds Chief Executive Officer, Gulf Coast Community Services Association (GCCSA);
Kandice Rose Founder, Pretty Girls with Cancer;
Jamilah Shami Project Manager, Farouk Systems, Inc.;
Melinda Spaulding Anchor, Fox 26 KRIV-TV;
Dr. Angela Sturm Facial Plastic Surgeon, Facial Plastic Surgery Associates;
Dr. Ka-Ron Y. Wade, BS, RN, BSN, DDS Cosmetic and Neuromuscular Dentist, Cosmetic Dental Texas;
Cynthia Wenz President & CEO, The Source for Women;
Nicole C. West President, NCA Investigations;
Dr. Anjanette Wyatt Pharmacy Manager, President & CEO, Clinical Care Pharmacy, LLC;
Judge Mimi Yam United States Immigration Court